RBS Locomotive Battery Charging and Care Solutions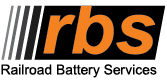 The RBS team has an in-depth understanding of locomotive starting power issues. We work closely with trusted product experts and engineers inside our key Partner Companies and Select Vendors to meet all railroads' demanding needs.
QuickCharge Portable Select-a-Charge Plus, 64 or 32 Volts, 20AMP
Float charger to use in shop or onboard. Front panel programming allows users to select charge profiles for either flooded or VRLA batteries. ARMS can provide this charger integrated with the Canadus Battery Energizer to keep batteries healthy and maximize battery performance and life.
Separate DC cable assemblies are available for use with this charger:
30ft extension cable with SB175 connectors on opposing ends
15ft cable with heavy duty clamps and SB175 connector on opposing ends
Features:
Efficient, linear charge design
Reverse polarity protected and current limited
LED indicators provide charge status and assist troubleshooting
100% copper transformer heavy-duty rectifiers
5ft output cable is finished with SB connector; AC plug is installed on the power input cord
Includes separate 15ft cable with an SB175 connector and insulated clamps; plus, a 30ft extension cable with SB connectors
Optional full-charge audible alert
Indication: Charge status LED, Volt/Amp meter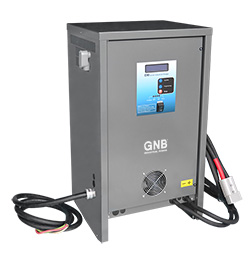 GNB EHI Charger for Locomotive Batteries
This charger is sold through partner company, Railroad Battery Services (RBS).
64V,125A / 32V,125A (Voltage Driven)
480VAC, 3P Input, Other Input Options
CEC Certified
VRLA or Flooded
Smart Charging, Safe Charging
Real-time Clock, Calendar
Logging History
Computer USB Interface
Includes 10ft cable set finished with an SB350 connector
Separate cable sets for use with the GNB EHI charger are also available:
40ft extension cable with SB350 connectors on both ends.
6ft battery-connect cable set with an SB350 connector on one end, and HD alligator clamps
2ft battery-connect cable set with an SB350 connector on one end, and fully insulated, heavy-duty narrow mouth (stinger style) clamps for connecting to knife switch on the other end.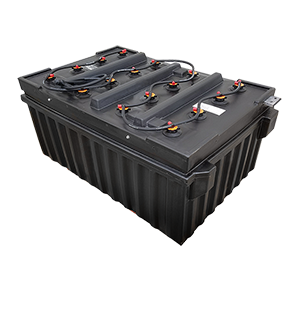 RBS Exclusive:  Flow-Rite SPWS for Locomotive Batteries
Frequent locomotive starts demand aggressive charging which results in increased water use within the batteries. Maintaining the proper level of water is essential to ensure cranking amps are available. The Flow-Rite single-point watering systems are designed specifically
to survive the extreme temperatures and vibrations onboard locomotives
to work on ALL MAJOR BRANDS of locomotive starting batteries
to fit within the battery compartments on locomotives
to ensure each cell receives the accurate amount of water
With over a decade of success on locomotives traveling across the US and Canada, the Flow-Rite single-point watering systems have been proven highly effective at reducing battery maintenance time/cost and improving battery performance. Flow-Rite SPWS may be purchased through RBS for easy install by railroad maintenance crews. They can also be factory-installed when ordering new GNB locomotive starting batteries KDZ501-FR and KDZ651-FR.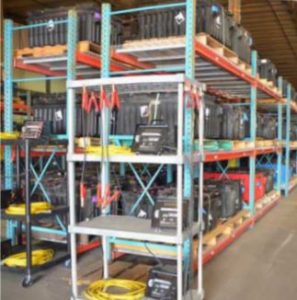 RBS – Railroad Battery Services, Inc.
(Special Partner Company to ARMS)
RBS specializes in world class battery services and associated products designed to maximize battery performance, life, and health:
Battery chargers
Comprehensive battery storage and charging program for out-of-service locomotive batteries
Desulfation service
Capacity testing
Battery site audits
Maintenance training
Single-point locomotive battery watering systems
Desulfation equipment
Conductance testers
Spill containment systems
Battery care accessories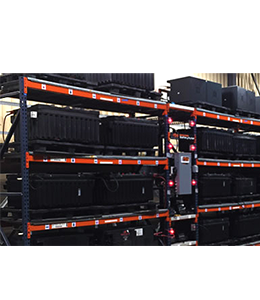 RBS BatteryNurse™ Systems
RBS BatteryNurse™ systems provide high-performance testing and charging for optimal battery health and reliability. Systems are designed to maximize process flow within each facility so that locomotive batteries can move expediently through the stages: Triage > Watering > Bulk Charge >Test > Float Charge. This creates a store of qualified batteries that are available for immediate service. The BatteryNurse™ system prevents installation of bad batteries or improperly charged batteries that could cause no-starts and require redundant maintenance.
RBS specializes in the highest caliber products and services to help railroads obtain optimum performance and viability from their locomotive starting batteries.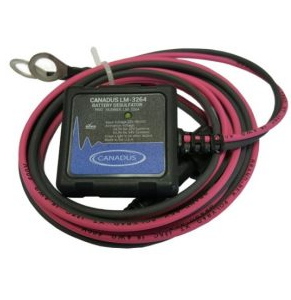 Canadus Locomotive Battery Desulfator
Safe, proven and patented High-Frequency Battery Energizing (HFBE) technology that combats battery failure by eliminating sulfation problems, the primary reason for battery deterioration. Easy to install and use; no special tools are required. When batteries are charging, Canadus battery energizers draw energy from the charger (DC side) and automatically work to keep the battery plates clean.
32V & 64V
Reverse polarity protected
Operating Temperature: -45°…+85°C
Green LED indicator
M10 (3/8″) ring terminals