Wago – Electrical Interconnections

As the innovators of the world renowned CAGE CLAMP® concept, WAGO has been the world market leader for more than a half century in the design and manufacture of termination systems incorporating screw-less, spring pressure, wire termination technology.
WAGO offers an unrivalled range of advanced products including PCB mount terminal blocks and connectors; chassis mount terminal blocks;, DIN rail mount terminal blocks; relay modules; signal conditioners;, controller interface modules, power supplies, surge protection, outlet boxes, push-wire connectors, and the WAGO-I/O-SYSTEM.
Rail customers often request terminal block assemblies from ARMS, or integrated and wired with power supplies, surge protection, and other components as needed.  Contact ARMS for similar assistance.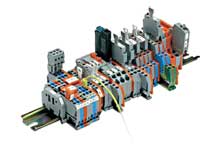 Rail Mounted Terminal Blocks
Accepts broad wire range of 28 AWG – 4/0 for both solid and stranded conductors
For applications, up to 600V and 200A
Connection Technology – CAGE CLAMP®, CAGE CLAMP Compact, FIT CLAMP, POWER CLAMP, CAGE CLAMP®S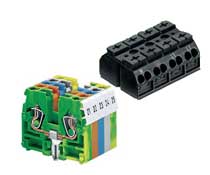 Rail Mounted Terminal Blocks
Flexible Mounting options – screw flange, built-in mounting rivets, transformer bobbins, and rail mounting
For applications, up to 600V and 20A
Accepts broad wire range of 28 – 12 AWG for both solid and stranded conductors
Connection Technology – CAGE CLAMP®, CAGE CLAMP compact, CAGE CLAMP®S, and LEAF SPRING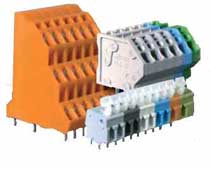 Rail Mounted Terminal Blocks
PCB connection technology
Through Hole Technology, Through Hole Reflow, Surface Mount Technology, and Press-In Technique
Accepts broad range of wire sizes 28 – 6 AWG
For applications up to 600V and 65A
Connection Technology – CAGE CLAMP, LEAF SPRING, CAGE CLAMP®S, and IDC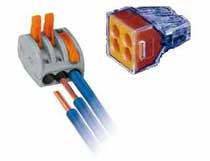 Splicing Connectors
Push-in leaf spring connection technology
Accepts 10-18 AWG stranded and solid wire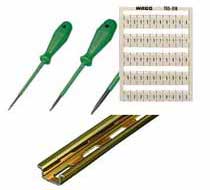 Rail Mounted Terminal Blocks
DIN rail
Identification markers and strips
Screwdrivers
Mounting aids